Zurück

|

Gudog

»

Ana and... are happy together in Leipzig!!!
Ana and... are happy together in Leipzig!!!
Verfügbarkeit aktualisiert vor 21 Tage
Frei für Reservierungen
Nicht verfügbar
Hello, my name is Ana and I moved to Leipzig in 2018, from Barcelona.
We've always lived in apartments that don't allow us to have pets (like the one here)... but we can have visitors! :-D
I have taken care of Mylo (Dachshund) and Dolly (French Bulldog) in England, Hendricks in Barcelona (dog walking and dog siting), Alfons & Nino in Dresden, and John, Mason and Ira in Leipzig, and I love them very much! Dolly and Hendricks are actually my godchildren!
I live near a couple of parks (great for dogs, right?!), and I work at the University teaching Brazilian Portuguese, and from home as a translator (I speak English, Portuguese, Spanish, and I am trying to study German!).
I love making new friends (human and furry!), cooking, and watching movies!
I use my bicycle and I walk every day. And your dog would be a great companion to my routine and passions: dogs, outdoors and exercise.
Let's love your best friend together! :-*
P.S.I: Please check my dates availability before contacting!
P.S.II: Unfortunately I cannot do accommodation or day care at my place (landlord's rules...), only short visits. But I generally take care of dogs in their own house!
| | |
| --- | --- |
| Durchschnittliche Bewertung | |
| Preis für Spaziergang | 12 € / Stunde |
| Ort | Leipzig |
| Adresse | An Der Verfassungslinde04103 Leipzig |
| Wohnart | Wohnung |
| Außenbereich | Nein |
Erfahrung andere Hundehalter mit Ana
Marius
& Ira
Ana ist eine außergewöhnliche Hundesitterin, die voller Empathie und Sorgsamkeit, den betreffenden Hund gepflegt hat. Aber- nicht nur, dass sie sich hervorragend um den Hund gekümmert hat, sondern auch um die Wünsche des Besitzers äußerst wahrgenommen hat.
Zudem lieben wir den Humor und Charme von Ana und hoffen auch in Zukunft, sollte es Zeitlich möglich sein, dass sie unserem Hund auch weiterhin betreuen kann.
Reba
& Mason
I recently moved to Leipzig and was eager to find someone to help me with my little Mason. Ana is an angel! She was quick to reply and offered to meet Mason and I personally to get to know us, which was very nice. Ana genuinely enjoys her time with Mason, often sending photos and updates. I have confidence in Ana's experience and know that she would provide the best care for my little guy under any circumstances.
Highly recommend to all doggies out there looking for a friend! :)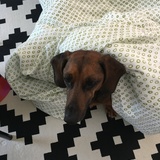 Martin
& Alfons
Ana hat sich erstklassig um unsere 2 Fellnasen gekümmert, die 2 waren sehr entspannt bei meiner Ankunft :) Ana ist sehr höflich und auch nett zu den Nachbarn. Das Haus hat sie im tadellosen Zustand hinterlassen. Ich kann Ana nur weiterempfehlen und buche sie jederzeit wieder.

Lydia
& Ricky
Ana has taken great care of my dog ​​Ricky when he has been in very poor health, worrying about all his special needs, adapting to my schedules so that he did not have to stay alone. Ricky loves her from the first moment! He gets very happy when he sees her.
She gives me a feeling of trust and I go with peace of mind when I leave Ricky with her. For us it was a blessing to know Ana <3

Madison
& John
Ana was a wonderful carer for my sensitive boy, John Dog! She treated him like he was her own and sent me many photo updates to give me peace of mind. Don't miss the chance to have Ana care for your pup.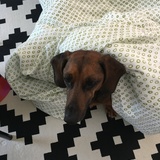 Martin
& Alfons
Die Betreuung durch Ana war erstklassig! Sie kann gut auf Hunde eingehen und mit den Eigenheiten von Alfons umgehen. Ana ist aus Leipzig angereist und hat die Hunde hier Vorort in Dresden für 3 Tage betreut. Jederzeit wieder würden wir uns für Ana entscheiden :)

Kirsten
& Hendricks
Hago referencia a mi reseña de alojamiento para Hendricks con Ana. Tanto para paseos como para alojamiento, Ana es la mejor de la mejor. Nos confíamos 100% en ella, y nuestro Hendricks siempre está feliz.

Kirsten
& Hendricks
Estamos super contentas con Ana, cuida a nuestro Hendricks como si fuera si propio perro. Siempre un trato super amable, se asegura de enviarnos fotos a lo largo del día para que estemos tranquilos, y Hendricks la quiere mucho. Cada vez que le vea llora de felicidad. Nos sentimos muy afortunados de haber encontrado a Ana, volveremos a usar sus servicios sin duda.
Letzte Verbindung
8 Tage
Reaktionszeit
ein Tag
Angenommene Reservierungen
81 %
Antwortrate
100 %
---
Diesen Hundesitter deinen Freunden empfehlen
Tweet
Gudog-Services in Leipzig